THỐNG KÊ TRUY CẬP
Đang trực tuyến: 78
Tổng lượt truy cập: 12.142.111
Vietnam rice prices hit the highest level in 2 years
15/08/23 02:42PM
The limited supply and increased demand for rice imports from many countries are helping Vietnamese rice exports to rise sharply again and are now at the highest level in the past two years.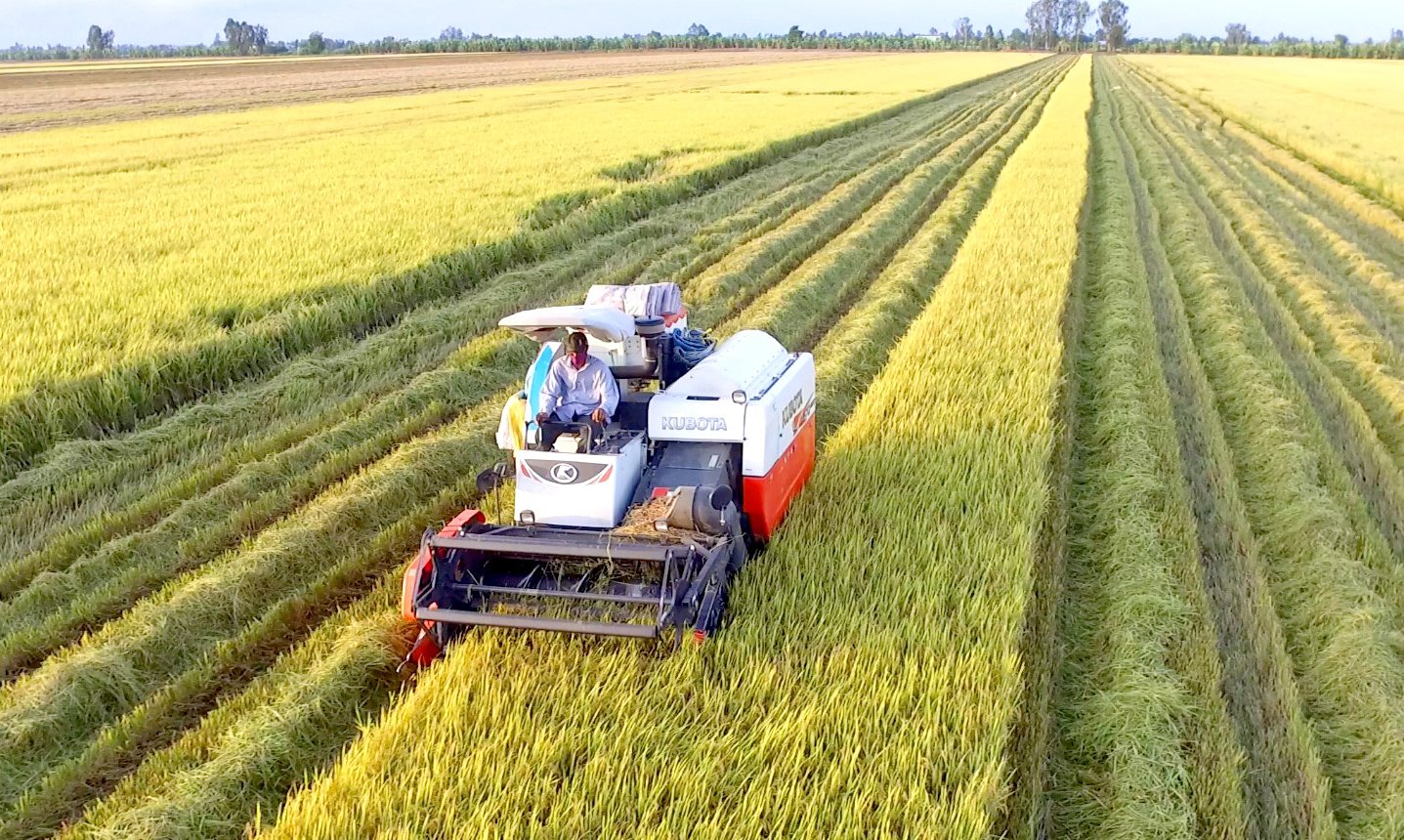 Harvesting rice in Can Tho City. Photo: Son Trang.
Information from some food traders said that the price of Vietnam's 5% broken rice was offered at US$ 498-502/ton earlier this week, higher than the price of US$ 490-495/ton. With the above asking price, Vietnam's 5% broken rice has had the highest price since April 2021.
The price of Vietnam's export rice has continuously increased recently due to limited domestic supply when the winter-spring crop has finished harvesting, and the summer-autumn crop has not yet reached the peak harvest time.
Not only Vietnam but the supply of rice from some other major exporting countries is also limited.
In India, Rabi production is forecast to decline due to unfavorable weather conditions. This country's millers tend to maintain inventories, prioritize government orders, and temporarily suspend the supply of significant quantities to the market in the hope that prices will continue to increase in the upcoming time.
As a result, the delivery time for export goods is also three times longer than usual, so Indian traders only focus on delivering signed orders. Supply of export goods is scarce, while mill inventories cannot be estimated.
The domestic price level in India is also increasing as many traders look to buy input materials to deliver contracts to Africa. Given this situation, most Indian rice exporters expect the asking price to remain stable at a high level or go up in the upcoming time. Remarkably, the basmati rice segment recovered after weeks of consecutive price declines supported by demand from Iran, Yemen, and Saudi Arabia.
In Thailand, according to a forecast from the Kasikorn Research Center (KRC), the primary milled rice production in 2023 is estimated to decrease by 6% compared to 2022, to about 25.1-25.6 million tons, due to the impact of the El Nino weather phenomenon. The KRC also warned that production is expected to be even lower if the drought is prolonged, reducing water reserves for irrigation and affecting the sowing schedule of the primary and second crops.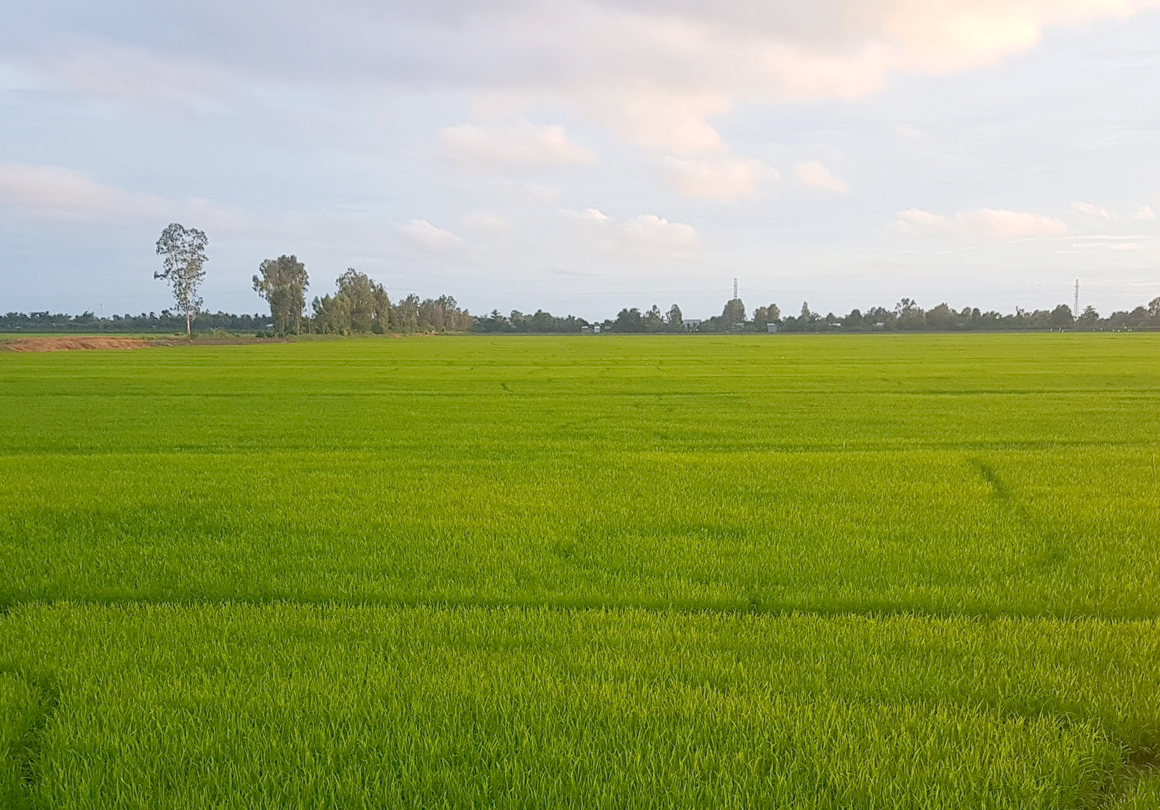 A rice field in Long An province. Photo: Son Trang.
Due to limited supply, Vietnam's exports are slowing down after exporting a record of more than 1 million tons of rice in April. According to the General Department of Customs, in May 2023, the whole country exported 725 thousand tons of rice, worth US$ 391 million, down 31% in volume and 29% in turnover compared to April 2023.
While the amount of rice exported is on a downward trend, the export price of rice is increasing due to high demand from the international market. Vietnam's export rice price in May averaged US$ 539/ton, up 3.1% from the previous month and the highest level since July 2021. Generally, in the first 5 months of the year, the export price of rice reached an average of 529 USD/ton, up 8.3% over the same period in 2022.
Rice exports are slowing down, but in the first 5 months of 2023, Vietnam's exports have reached over 3.62 million tons, worth nearly US$ 1.92 billion, up 31% in volume, up 42% in turnover compared to the first 5 months of 2022.
Regarding the consumption market, in the first 5 months of this year, rice exports to most of the main markets increased compared to last year. In which, the Philippines ranked first in Vietnam's rice export market in the past 5 months with a volume of 1.53 million tons, worth US$ 772 million, up 21% in volume and up 31% in turnover over the same period of the previous year. This market accounts for 42.3% of Vietnam's total rice export volume.
China ranked second with 632 thousand tons, up 63% in volume and 79% in turnover over the same period, accounting for 18% of total rice exports. Indonesia suddenly rose to the 3rd position in Vietnam's rice export market in the first 5 months of 2023 with a volume of 369 thousand tons, up 15 times (1,498%) over the same period last year.
In addition, rice exports to some markets increased very strongly, such as Taiwan up by 142%, Senegal up by 1,147%, Chile up by 4,120%; and Turkey up by 15,972%... Some markets in the EU also grew at triple-digit rates, such as Poland increased by 117%, Belgium increased by 165%); and Spain increased by 308%.
Author: Son Trang - Tuy Hoa
Translated by Ha Phuc
(Nguồn: Báo Nông nghiệp Việt Nam)